Episode 174 | Exit Planning
Episode 174 | Exit Planning

00:00
Hey Group Practice listeners! This episode is all about exit planning, and I'll be sharing recordings from The Group Practice Exchange followers who have gone through the process of slowing down and exiting themselves!

In this episode I cover:
Reasons people are exiting group practice
How slowing down + exiting can support your vision
Group practice owner experiences with exit planning
This episode is sponsored by TherapyNotes. TherapyNotes is an EHR software that helps behavioral health professionals manage their practice with confidence and efficiency. I use TherapyNotes in my own group practice and love its amazing support team, billing features, and scheduling capabilities. It serves us well as a large group practice owner.
Do you ever wish for a financial therapist who could relieve you from the last few months' bookkeeping, talk you off the edge when you're running into issues with Quickbooks, or help you work through a profit plan for growth? GreenOak Accounting does just that! GreenOak Accounting is an accounting firm that specializes in working with group practices. Their value goes WAY beyond bookkeeping; they can help you get on track for financial success. Schedule a free consultation by going to http://greenoakaccounting.com/tgpe
Maureen Werrbach
Welcome to another episode. Today, I am going to be doing something a little bit different. So this month's theme in The Exchange membership program is all about slowing down and exit planning. And we had a great training with Lifestance, who talked about what the process is like and what they look for when purchasing group practices. I'm doing a training on Slowing Down and Exit Planning from a group practice owners perspective and things to think about. And this episode, I wanted to get feedback from other members of The Group Practice Exchange, who are either actively in the process of slowing down themselves as a group practice owner, or even exit planning. And so what you'll hear are a few recordings from group practice owners who are in that process, and you get a sense of what they're doing and what it feels like and what their process is like. I also have a recording that I'm going to actually read out loud, there's someone who did not do the voice recording, so I wanted to read theirs as well. And I'll chat a little bit about my process for slowing down as well.
So one member said that she is doing–she sold her practice a little over two years ago, she completely exited in August, and I'm feeling good is an understatement. It saved my life. And I when I chatted with her on, you know, tell me a little bit more about what this is like and what you're doing now, she said she's doing solo practice now. And this is so common, I think the pandemic has really created this sense of burnout, more so than usual. And a lot of group practice owners are reevaluating how they want to present in their group practice, if they want to continue their group practice and a lot of people are thinking about going back solo, it's a really interesting thing to be witnessing and seeing. And from what I'm seeing so many people who are making that shift back to solo practice, I know a few people personally, who's also done that sold their group practices and are back to solo. Because the management of so many staff and the opposing kind of needs that employees in a group practice have oftentimes don't align with each other. And it's really hard to feel like you can make decisions that everyone is happy with.
And I think the pandemic has really just created this extra burnout where group practice owners are realizing that those that don't want to own a group that they prefer to go back solo and do their own thing. And so this is what this person is doing. I'm doing solo practice, now I'm able to focus completely on the work I love to do, and take it at my pace. I decided to sell because I grew so large so quickly that I couldn't build the infrastructure I needed to support the volume of need, if I wanted to continue to help make a difference and to support the clinical team–like offering them the security and health benefits they deserve. I needed an army to work behind the scenes, the emotional process was difficult, there is an aspect of grief that is experienced. But I know in my gut, I made the right decision, my mind, my body and my soul are in a much healthier and authentic place.
And so this is really the feedback that I'm seeing from from those that have made the decision to completely exit plan out of their group practice. Most of those that I know have decided to go back solo, a few people that I know have chosen a different line, whether that's coaching, doing consulting work, or doing work for group practices, like in a consulting sort of capacity, where they don't have a team of employees and clinicians that work for them. So what you'll hear in a few minutes is a few recordings of a few other people who are in that process of either–I think the the recordings that are coming next are all people who are still in their group practice but have slowed down and removed themselves from the day to day process.
And that's really what I have been working on for the past, I'd say about three years. Because our practice, my practice continues to grow. The process for exiting, or removing myself from the day to day has evolved and shifted as the group practice itself has grown. As many of you know, when your group practice grows, the leadership needs shift. And so when I started sort of stepping back a few years ago, my practice was much smaller and leadership needs were very different than how they are now. And so, as my group practice has grown, there have been ebbs and flows of times where I've been really able to do the visionary work, which is, in my case, that is how I see myself in its most ideal form is owning the group practice, but really only doing the visionary work, and having a team that can run the business on a day to day basis. And so a few years ago, I started that process where I was able to remove myself from seeing clients, I then started creating a leadership team, which has now evolved to I think, almost 10 people at this point, who lead the group practice in various capacities from the hiring from the clinical supervising to, you know, the administrative and now an executive director who essentially has taken on my role completely. And that allows for me to really do that visionary work, that's important to me.
Like I mentioned, I noticed, in my own case, as my group practice evolves and grows, that there have been times where I've been pulled back into the group practice more than I've been wanting to be. And that's kind of the work of business ownership is looking at how things evolve, and grow and scale how that affects your not only your built the business's ability to grow, but successfully, but also how it might need more supports and kind of pull you back in. And that's an indicator that it can help you see, where is it that there are gaps or holes that need to be filled, so that you don't have to play that role. And that's actively the space that I'm in now with having brought a person on as a an executive director. And I think I'm at that last stage now where an executive director is really going to be the position that once that person really kind of knows my brain, we're in this space of brain dumping everything that I know, into her brain, that that should allow me to really be able to step back indefinitely and be able to do just the visionary work. As all you guys know, owning a group practice is hard and a lot of work. But owning several businesses and I've got three makes it that much harder. It's just impossible for me to be completely into the day to day of my group practice while being in the day to day of The Group Practice Exchange while being in the day to day of the conferencing business that I co own with Mike Blumberg. So it's not only because of owning multiple businesses that I've had to make this decision to sort of step back in the group practice and allow my superstar team members to be able to step up into leadership and run the business.
For me now that it's built in the infrastructures there. It's also allowing me to do some of the passion pieces that I really love most, which is the advocacy around mental health. I noticed that the more involved I was in my group practice, the more it sucked me in, the less I was able to not only run my other businesses, but to be able to do some of that higher level work that really to me feels like is my calling. Like doing this advocacy work around mental health and insurance. And so, me being able to step back is allowing me to do that. And so that is my version of stepping back and slowing down–is creating more opportunities for people in my group practice to be able to lead so that I can step back more now that that infrastructure in my group practices in place. They just need to manage what has been built and kind of keep it going.
But as I step back here now and allow the recordings to come through, you'll hear a few different perspectives of other ways that people are stepping back in their group practices and what that looks like because it looks different for all of us. And that's what I think is so awesome. So without further ado, let's listen to these recordings!
Kierrah Flipping
Hi, my name is Kierrah Flipping, and I am the owner of Core Empowerment, which is a holistic outpatient mental health clinic specializing in the mind body spirit approach to mental health and wellness. So I'm so happy to be sharing my journey of how I transitioned fully out of my business and just fully functioning in the role of CEO. So for me this really looked like honestly starting from the bottom as a single member practice just alone by myself and then slowly growing into a group practice. And then once that happened, that really allowed me the space to really hone in on my expertise, which is mind body spirit wellness, & energy healing. In different interventions that really integrate the mind, body and spirit such as Reiki, yoga, meditation, and breath work. So with doing this, my transition first looked like as I started with my group practice, the practitioners that were coming on really started to take over the therapy, the talk therapy part of the practice, which allowed me the time in the space to really focus on the energy healing and holistic wellness portion of the practice. And then with offering several different trainings and workshops, I was able to train and certify other mental health practice owners and practitioners in the different energy healing modalities and also employ practitioners of energy healing methods within my practice. So then, that allowed me to focus more on speaking, training, community engagement and workshops, which then allowed me to fully hire an administrative staff. So an office manager and executive assistant biller, because I was doing all of those things, and administrative assistant for the phones, and that is how I was able to fully transition out.
So it was very gradual, step by step. And it really boils down to delegation and training, and bringing people into my business that I could trust. And that were very open to learning just the mission and vision of my practice, which again, is Mind Body Spirit wellness, which is a very unique practice. So bringing in individuals who also embodied that same vision and mission as it pertains to mental health, and also delegating those administrative tasks. So getting someone in for billing, answering the phones, booking the calendars, like really getting that administrative assistants in and now I fully function as a CEO just you know, running the higher level actions of the company, which honestly isn't that much because I have my executive assistant who is there to really more so take over like the day to day management of the various staff that we have hired within our practice. Which allows me to, you know, now enjoy more time with family, more time with friends, and also kind of do some things on the side and really get into some other aspects outside of mental health that I am interested in. So that is my journey.
Heather Sund
Hello, my name is Heather Sund from Navigate Family Therapy here in Seattle and Edmonds, Washington. And I love this question of how we are seeking to slow down and replace ourselves. I'm sure I'm not alone in that this question has been on my mind, probably within six months of starting a group practice and working probably 60 to 70 or more hours a week and having it be constantly on my mind. I went through the whole process of starting out as an IC with all the benefits, bells and whistles, and then realizing we should be a W2, made the switch to W2. And I would say that pushed me right to the edge of burnout, the amount of direction and control and the employment handbook and all the details were just not life giving for me. And it wasn't what I set out to do. And starting a group practice, I really wanted to support clinicians, bring them together in community, and provide a culture of care and connection amongst clinicians. And so in COVID, when things were just, everything stirred up, I made that switch and I now do exactly that. I am a business service provider to private practice clinicians, we do not contract with them, they hire us. And with wonderful people now in place, I know it takes a while we've been there, the clinical care team, our bookkeepers, our networking and marketing and our billing services are all just top notch. And so I interface with those providers. And we provide a whole suite of services to private practice clinicians who own their practice completely. They decide the hours they want to work, they decide the kind of clients they want to see. And they have all of the autonomy that many clinicians wanted going into private practice. So it really is a win win. We have grown, and it has allowed me to step back, our business providers are just like I said, doing excellent work.
And we have now quadrupled our income. Since January, we've tripled the number of clinicians that work with us, we have opened a second site. And we just bought a building that we're renovating and will allow us to grow even more. And so the numbers are better than ever. And I work a third of the hours of in the beginning, I work a little more than part time, maybe. But my hours mean something and they're efficient. I would still like to replace myself administratively on some level and have a director of sorts step in to the management that I provide. But it's going great. I pick my kids up from school, I send them off at the beginning of the day I stopped work when they come home, I take most Friday's off and on through the weekend. And I'm available, you know I go to lunch with friends and doctor's appointments again, and the work life balance that I really went into private practice to have has returned. And the enjoyment of being a group practice owner has returned, which I think is number one in staying in this. The community we provide to clinicians is all a la carte, and they love it. They love that they have these bonus things that they can be a part of if they want all of them do connect with each other and come to these extras that we that we offer. But it's outside of the contracting and it's not a requirement. So it's really fun that they get the autonomy. We get to retain that culture of high level services and care for our clinicians, and have the work life balance that we wanted. So I can't wait to hear what others are going to share. That's our story at Navigate Family Therapy. And I'm just excited that we are all on this journey to think about how to have better work life balance and keep our sanity when this work that we got into is really meaningful. And hopefully this will help us to stay the course to provide great mental health services to the world that needs us so much right now.
Maureen Werrbach
All right, y'all, I hope you enjoyed listening to members of The Group Practice Exchange, your peers, and how they are stepping back or exit planning their group practices. I'd love to keep this conversation going. I think this is something that is just really prevalent right now in our field. And I'd love to see how you're doing it, how you're slowing down, what it feels like for you. If you've exit planned completely what that felt like, if you're in the process of sort of setting your business up to exit plan. I know a lot of people are in that process because exit planning completely does take a long time. You want to make sure your ducks are in rows so that you can successfully exit plan and be in a space where your business is something that another person wants right? Because most of us if we're exit planning or wanting to sell the business, and if you're selling your business, you need to make sure that you have all the infrastructure, the systemic and operational procedures all set up in a way that someone else will find valuable and want to take. So if you're doing that, I'd love to hear more about what that process is like for you or what that process was like. So, chat with me on Instagram or in the Facebook group and let me know how that's going. I hope you have a great day!
Thanks for listening to the group practice exchange podcast. Like what you heard? Give us five stars on whatever platform you're listening from. Need extra suppor? Join The Exchange, a membership community just for group practice owners with monthly office hours, live webinars, and a library of trainings ready for you to dive into visit www dot members dot the group practice exchange dot com forward slash exchange. See you next week.
Here are the resources and guides we recommend based on this episode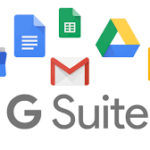 G Suite Business is a great HIPAA compliant tool that allows for sending HIPAA compliant emails interoffice (add on service for sending HIPAA compliant emails to clients), HIPAA compliant use of google drive, docs, forms, sheets, slides, and more. You can share documents between clinicians in an organized way too. G Suite Business also has HIPAA compliant video through Google Meet, that comes with the Business package.
Email us to get a promo code for 10% off your first year of Google Workspace.
* I am an affiliate for some of the businesses I recommend. These are companies that I use in my own group practice, and make recommendations based off of my experience with them. When you use some of these companies through my links, I receive compensation, which helps me continue to offer great free information on my podcast, blog, Facebook group, and website.
Maureen Werrbach is a psychotherapist, group practice owner and group practice coach. Learn more about her coaching services here:
The podcast is structured so that you get practice building tips in small doses, where an episode can be listened to (and a group practice building lesson can be learned) in a single car ride.
Episodes are structured into categories: coaching sessions where I coach a group practice owner on a specific topic, tips of the day by yours truly, real talk where you get to be a fly on the wall while an established group practice owner and I talk about the highs and lows of ownership, and trainings done by experts in the field.
Don't miss an episode! Download The Group Practice Exchange Podcast on iTunes, Stitcher or Google Play and don't forget to subscribe and rate TGPE
* The content of this post is intended to serve as general advice and information. It is not to be taken as legal advice and may not account for all rules and regulations in every jurisdiction. For legal advice, please contact an attorney.