Have you created a business plan for your group practice yet?
I reckon you haven't. Research shows that an overwhelming majority of businesses don't write a business plan (and interestingly enough, 70% of businesses close their doors before the 10-year mark). Coincidence?
So many of us feel like we have all these details in our heads, why write it down? If we know the answers to all of these questions, doesn't it make more sense to spend that ever-so-limited valuable time actually growing our businesses instead of wasting our time writing thing we already know down?
I challenge you.
What are the demographic stats of the community your group practice is in? Median income? Household size? No guessing. Actual stats from your chamber of commerce.
What is the growth of income and expenses from your first year of operation versus where you are now versus where you expect to be in 3 years?
What services are you thinking of offering in the future? What does your community need? What does your demographics show (is median household size 1-2? Do stats show less families and more single or childless couples in your business' area? Family counseling or child therapy will likely be more difficult to market).
What is your mission statement? Vision statement?
Are these questions difficult to answer off the top of your head? That's why a business plan is good. It gets you thinking in areas that you may not be thinking about or feel the need to delve deeper into (brushing off those research skills you haven't used since grad school, nudge, nudge). But this is exactly what we need to do as group practice owners. We aren't solo practitioners anymore. We have employees or clinicians counting on us. If our businesses fail, it affects far more than just us.
Ready to write your business plan now? Grab the Group Practice Business Plans in a Weekend workbook. I'll walk you through the 7 sections of a business plan. Not only that (because that you can find anywhere on the internet), I'll cater the workbook to group practice ownership specifically. I'll give you questions to ask yourself that will help you write all the sections of the business plan so you don't have to guess what to write.
See you there!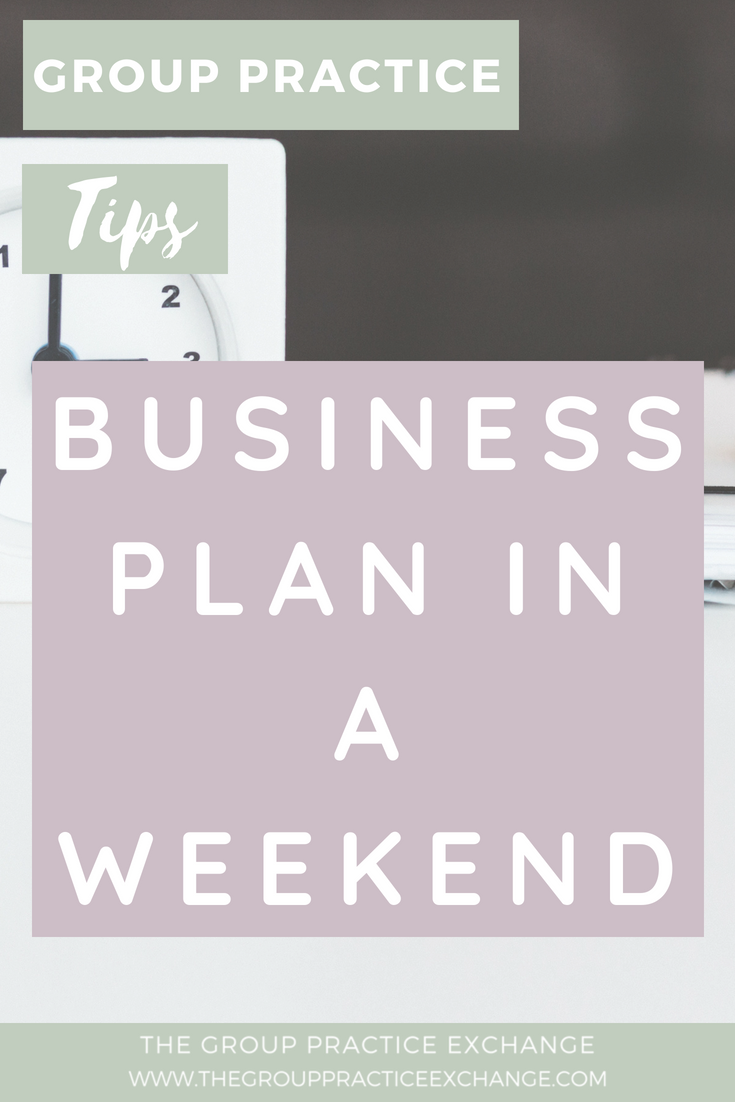 Maureen Werrbach is a psychotherapist, group practice owner and group practice coach. Learn more about her coaching services here: LEARN MORE HERE