I am so excited to put this out in the world. As many of you know, I have become a Profit First groupie and have totally shifted my business finances and expectations since reading his book. I went from not taking a profit in my business to taking the profit I should have been taking all along within months. It was a total game changer and shifted how I look at money. If you haven't already read his book, you should!
Have you been struggling with how you manage your business finances?
Do you feel like you have no understanding of where your business finances are going and what your profits are?
Have you read the Profit First book and totally fell in love with the system and want to hear from Mike about how to implement this in our industry?
In this episode, I interview the author of the Profit First book, Mike Michalowicz. In this episode Mike:
Goes over a group practice owner's profit first assessment and gives feedback (see PDF below to follow the interview)
Explains profit first
How niching is key to increasing profits
Talks about how to implement profit first in your personal life
How to redefine an industry by being a profit first business and changing the rules
It's not about only cutting costs, its about increasing margin too!
How Mike uses Profit First in his personal life
His biggest piece of advice for people starting off with Profit First
You can purchase his book here–> Profit First Book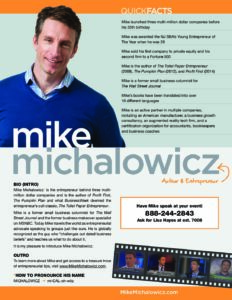 ---
*Need a good EHR for your group practice? TherapyNotes is it. I've been using it for years in my own group practice, and it does really well when it comes to having the features group practice owners need. Try it out for FREE for 2 months by clicking here.
*  I am an affiliate for some of the businesses I recommend. These are companies that I use in my own group practice, and make recommendations based off of my experience with them. When you use some of these companies through my links, I receive compensation, which helps me continue to offer great free information on my podcast, blog, Facebook group, and website.